NeoMail User's Guide Version 1.0.0
---
Reading Your E-Mail
Reading e-mail is done by clicking on the e-mail's "Subject", which brings up the screen shown below. Click on the

icon to reply to the sender, click on the

to reply to the sender plus all other recipients, i.e. "Reply to All", or click on

icon to forward your message to somebody else. Use the

and

arrow icons to navigate to the previous or next e-mail message respectively.
When you are finished, you can click on the

icon to return to your previous folder, or the

icon to log off.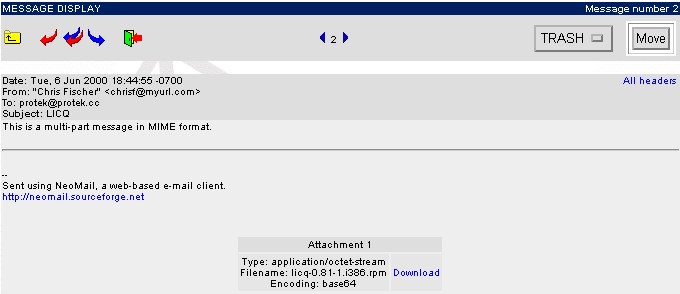 Downloading Attachments
If you have an attachment you will see a list at the bottom of your e-mail. Simply click on the "Download" link and choose a directory to save the file.