NeoMail User's Guide Version 1.0.0
---
Composing A New E-Mail
Click on the

icon to compose a new e-mail message. You can type in an address by hand, or you can click on the "To:", "CC:", or "BCC:" links to bring up your address book. This is handy for sending e-mail to multiple recipients. When your are finished, click on the "OK" button.

The "Reply-To:" field can be left blank, unless you wish replies to be sent to a differnet address that what is specified in the "From:" field.
Attachments
NeoMail allows you to send as many attachments as you want. However, there may be a limit on the total size of attached files. This is configured by your administrator.
To send attachments, type in the full path of the file, then click on the "Add" button. Below is an example. Alternatively, you can click on the "Browse" button and select the file with the mouse.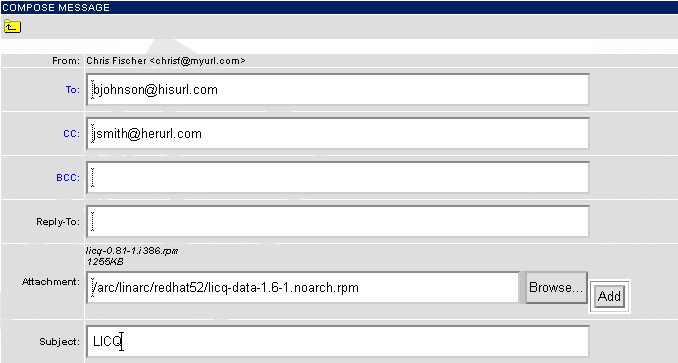 After you have typed in a Subject and the Body of your e-mail, click the "Send" button.